OUR
PROGRAMS
Solve the problems that matter most to you using technology you build yourself. Working in a team, you'll find a problem in your community and build a tech product to solve it. Along the way you'll develop your collaboration, problem solving, and leadership skills.
Registration is currentlyclosed for students and mentors.
Join us to learn how to use technology to solve a community problem or support girls around the world as they become leaders and innovators.
Sign up!
140,000 young people served to-date. Supported by 19,000 volunteers trained as mentors and program facilitators
After participating in Technovation programs, families and girls understand computer science and AI better, and they're more confident leaders and problem solvers.

We're committed to sharing what we learn from running our programs with everyone so we can all move forward together.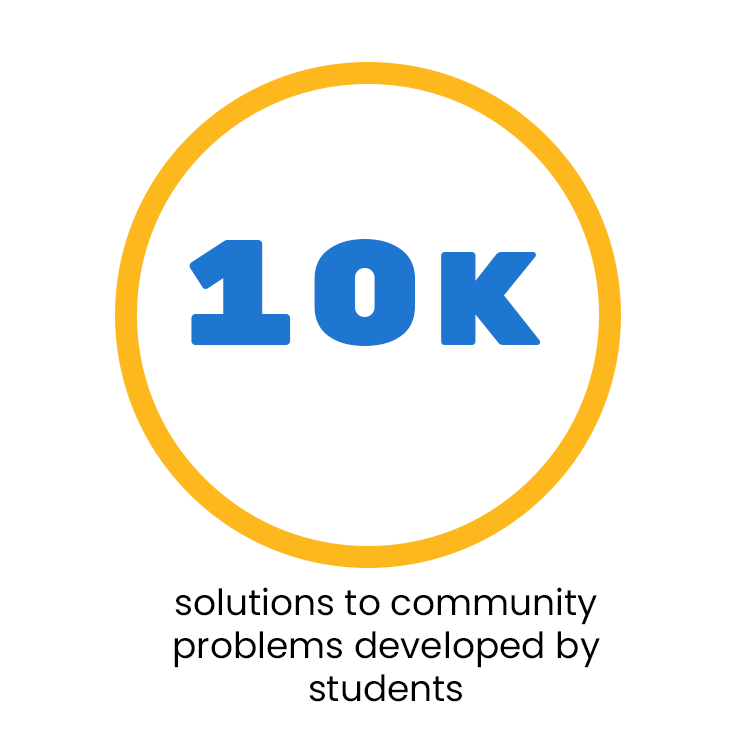 80%
of Technovation Girls demonstrate a basic understanding of programming
76%
of Technovation Girls Alumnae go on to pursue a STEM degree
60%
of Technovation Girls Alumnae are working in STEM-related fields
50%
of mentors say they're better at ideation after participating in our programs
WORK WITH US
Technovation is a global community of young dreamers, their families, educators, volunteers – and you.

Join Technovation and make sure everyone is equipped for the future. Support girls and families as a mentor, offer feedback as a judge, or provide the materials that bring Technovation to life in 100+ countries.

There's a role for you with Technovation – let's find it.

Support our programs
Help us inspire the next generation of innovators and problem solvers. Invite your employees to connect with us as mentors, judges, and industry experts.
Help us
Run our programs
Lead our programs locally and nurture kids' and parents' growing confidence, creativity, and curiosity. Cheer them on as they use technology and AI to change the community – and the world.
Lead with us

"We need to all work together to make sure that our communities have access to such important technologies."
-Tonie Hansen, Sr. Director, Corporate
Social Responsibility, NVIDIA

"I'm going to change the world by sharing my voice with every woman so we can make the world better, together."
-Harini A., Technovation Girls Finalist, 2018

It's important for families to learn about technology, because families should feel empowered to make differences in the world."
-Sheila B., Educator and Technovation Families Community Partner, US
STAY IN
TOUCH
Subscribe to our newsletter for regular updates about Technovation Girls, Technovation Families, and ways you can get involved!