Empower lifelong learning at work and in the community.
As we all strive to stay ahead of changes in technology, too few of us have opportunities to keep up. 
We believe everyone can create positive change in their lives and in their community. 
Through our technology entrepreneurship curriculum, girls learn to code their way to becoming confident community leaders and change-makers.
Families realize their potential to learn and use AI to solve real-world problems as they play and create together.
Our alumni pursue education and leadership opportunities through additional courses, and network at Fortune 500 tech companies and international organizations including the UN and UNESCO. 
Our mentors become more confident, creative, and report having a better relationship with their company after volunteering.
It's all possible through the support and passion of partners who help make this work possible. 
Align goals
Make an impact
Learn why NVIDIA believes AI literacy is important, what they look for in a nonprofit partner, and why they chose to work with Technovation (formerly Iridescent) to bring AI literacy to communities around the world.
Support and encourage
Diversity in tech
Today, only 1 in 5 C-suite leaders is a woman, and only 1 in 25 is a woman of color. We want to give more women, girls, and underrepresented people the opportunity to contribute to today's technologies so tomorrow's solutions will reflect the diversity of those they help. Let's work together to create a partnership that aligns our collective impact goals.
Learn about our collaboration with Adobe
Work with us to inspire, engage, and support communities to build a better world with technology.
Support Us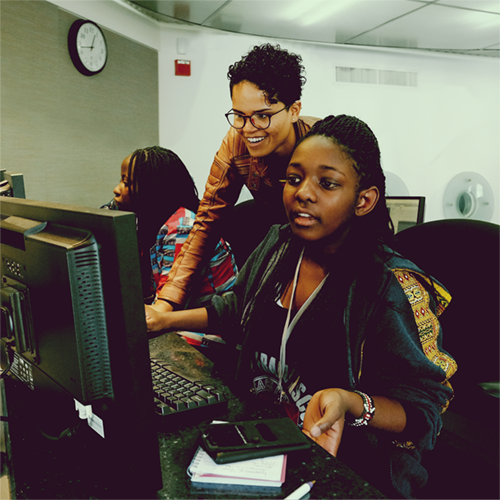 Connect with our engagement team to discuss ways we can involve your employees in our skills-based mentoring and volunteer opportunities.

Contact Us
Our Partners
Thank you to all our partners for your generous donation of time, talent, and funding.
Learn how NVIDIA engaged their employees and helped us bring artificial intelligence education to families around the world.
Read about our partnership
Discover more about the creative problem solvers who are learning about and building mobile apps and AI prototypes to change the world.
Read their stories

"Keep encouraging your children to learn new things, to learn about artificial intelligence and computing, to pursue the things that they're passionate about and fulfill their dreams."
-Jeff Dean, SVP and Senior Fellow, Google AI

"This whole program for me is a way to go ahead and teach those people that AI is a tool that can make your life better"
-Vigneshwer, Technovation Families mentor

Participating in Technovation opened many doors for me. I won a scholarship to attend Apple's WWDC in 2018 [and] had the opportunity to present our environmentally themed app at the Impact2 conference in Paris.
-Nadin, Technovation Girls Alumna